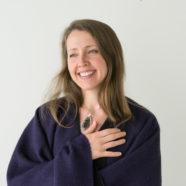 Energy medicine has always made intuitive sense to me, like an on-going assumption on par with breathing or eating. We live in interaction with a cosmos that is a constant expression of energy. In every culture and medical tradition before our current time, there was an understanding that all living creatures contain a vital life energy. It is this force that is behind an innate self-healing/self-regulating capacity that allows the body to adapt to stress, and to heal and transform itself. Traditional Chinese medicine is thousands of years old but it couldn't be more futuristic or relevant for the times we live in. 
There was a seed planted in me long ago, a longing and a trust to go deeper into an understanding of how energy moves and works within our bodies. This also led me to a fascination of healing in other cultures and in addition to my training in traditional Chinese medicine, I have traveled to India, Nepal, and Tibet to study traditional Tibetan medicine. I completed my Masters in Oriental Medicine from the New England School of Acupuncture in 2003 and have maintained a busy clinical practice since then.
During that time I have developed a unique practice style that includes a fusion of therapeutic essential oils, bodywork and cupping in addition to acupuncture. In addition to my training as an Aroma Acupoint Therapist, I rely on my tools of traditional Chinese herbal medicine, flower essences and other practices that help harness the healing power of the mind.
I work with a great range of people, assisting with anything from a sprained ankle to instances of advanced, chronic disease. Over the years my practice specialty has broadened from the realm of fertility support, pregnancy, and women's health, to include more chronic disease such as thyroid imbalance, adrenal fatigue and other forms of hormone dysregulation. I also enjoy clearing out tension, pain and blockages that so easily accumulate in the bodies of all modern human beings. 
I am always interested in exploring what "true health" means in a more multi-dimensional way, which is often beyond the shell of our physical body. I also work as a transformational coach in order to support people in their discovery of what a vibrant life feels like in all areas of their life. Check out kendraward.com to learn more about my other offerings.
Some of my other fun adventures include hiking the entire loop of Killarney Provincial park in Ontario, having a private audience with His Holiness the Dalai Lama in Dharamsala, India, teaching English is Istanbul, Turkey, sailing through the US Virgin Islands, living in Maisons-Laffitte, France, studying with traditional herbalists in Katmandu, Nepal, hiking to the base camp of Mt. Everest, and getting married under an old black walnut tree in St. Helena, California.