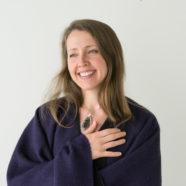 Kendra Ward, LAc., MAOM, is a traditional Chinese medicine practitioner and cofounder of the Whole Family Wellness Center in Portland, Oregon. She has spent the last seventeen years immersed in running a busy private practice specializing in women's health, often finding her patients in health crisis or at a vulnerable transition in their lives. 
Kendra holds a bachelor's degree from Wheaton College in Norton, Massachusetts, and a master's degree in acupuncture and oriental medicine from the New England School of Acupuncture in Boston. She was on a premed track during college, but after a semester abroad in Tibet, India, and Nepal with the School of International Training, she became deeply interested in eastern methods of healing. Following college, she worked for a year at the Mind Body Medical Institute established by cardiologist Herbert Benson, M.D., at Beth Israel Deaconess Hospital in Boston on studies investigating the role of the relaxation response on sleep and the effects of intercessory prayer on recovery times after bypass surgery. This work aligned with her undergraduate neuroscience research studying the effects of stress on the brain.
Today Kendra is a diplomate of Chinese herbology with advanced training in aroma acupoint therapy (which involves essential oils), and various bodywork modalities. She has also studied advanced energy mastery with contemporary shaman, Christina Pratt, and shamanic journeying with author and shamanic practitioner, Sandra Ingerman. Kendra completed her yoga teacher certification with David Swenson in Montreal in 2000, teaching for four years, first in Boston and then in Portland.
Some of Kendra's life adventures include hiking the entire loop of Killarney Provincial Park in Ontario multiple times, living for a year in Maisons-Laffitte, France as a teenager, having a private audience with His Holiness the Dalai Lama in Dharamshala, India, teaching English in Istanbul, Turkey after college, sailing through the U.S. Virgin Islands, studying with traditional herbalists in Katmandu, Nepal, hiking to the base camp of Mount Everest, and getting married under an old black walnut tree in Saint Helena, California. 
When she is not in the clinic or writing, Kendra's spirit sings with her hands in the dark, wormy humus or when she is walking amongst the great giants on an old growth trail, searching for barred owls. Kendra lives with her two elementary-aged children and her soul-flame husband, who is a naturopathic physician and co-owner of her clinic, in Portland.